Dr. Claud Anderson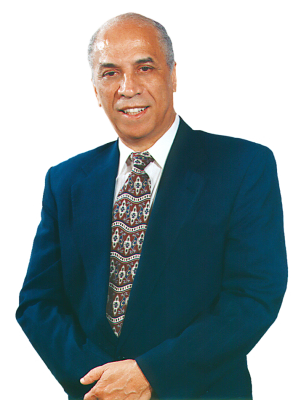 Dr. Claud Anderson is president of PowerNomics Corporation of America, Inc. and The Harvest Institute, Inc. PowerNomics is a company that publishes his books and produces multimedia presentations in which he explains his concept, PowerNomics. PowerNomics is the package of principles and strategies he developed to explain the concept of race and to offer a guide for Black America to become a more economically and politically competitive group in America.
Dr. Anderson's book, PowerNomics: The National Plan to Empower Black America, incorporates and reflects his past experiences: his academic research, business experience, both as an owner and a capital provider, and his varied political positions. He has held the highest positions in federal and state government and politics. He was State Coordinator of Education for Florida under Governor Reubin Askew during the tumultuous period of the 1970s. After successful social reform projects in Florida and leading President Jimmy Carter's Florida campaign to a win in the state, Carter appointed Anderson as the Federal Co-Chairman for a Commission of governors in the southeast states. In that position (rank of assistant secretary in the U.S. Department of Commerce), he chaired the commission, funded and directed economic development projects for the governors in those states. The projects he funded created jobs and businesses in those states. As executive director of two economic development corporations for the city of Miami, Florida, he oversaw funding of more than 30 businesses. Although he has been a political independent for many years, he was a major planner and coordinator for the 1988 Democratic Convention in Atlanta and has taught at all levels of education.
Dr. Anderson is also president of The Harvest Institute, a nationally recognized think tank that does research, policy development, education and advocacy to increase the self-sufficiency of Black America. Dr. Anderson's books, Black Labor, White Wealth: A Search for Power and Economic Justice and PowerNomics: The National Plan, are the foundation for Harvest Institute programs.
His books, including his most recent, More Dirty Little Secrets about Black History , which he authored with his son Brant, have all been best sellers and are used as textbooks in many universities and high schools.
What is PowerNomics®?
Download PDF
The concept of PowerNomics® was created by Dr. Claud Anderson and is described in his book PowerNomics®: The National Plan to Empower Black America (www.powernomics.com). The PowerNomics® concept and plan teach Blacks how to pool resources and aspects of power so that they can produce, distribute and consume in a way that creates goods and wealth.
Black Americans made extraordinary contributions to American society despite the astonishing, unusual and unconscionable treatment they have endured in America. Blacks were the engines that drove the political-economic development of this nation for centuries. They should, therefore, value their exceptionality and let that sense of worth, guide their group behavior. They should require that any business, political party or political candidate who seeks or benefits from Black support, always identify Blacks by name, commit and in reciprocity, deliver tangible, measurable benefits to Black Americans. They should never allow themselves to be grouped with or equated to broad and ambiguous classes such as minorities, immigrants, people of color, diversity, poor people or similar defining terms. The nation is indebted to Blacks and equating them to fabricated classes adds insult to injury, hides their special history and promotes the myth that all people have been created and treated equally and that all groups have contributed equally to the building of the nation. Nothing is further from the truth.